Contact Us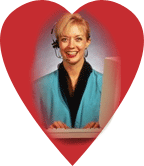 Just like in any relationship, we take the good with the bad. Have a Problem using the website? Have a Compliment or Success Story? or just Have a Question? We'd love to hear from you.

Choose your option below (name and email required). We'll try to respond to your request within 48 hours.


Sincerely,
The VirtUmatch Relationship Team
Email: notify@virtumatch.com


P.S. We're conducting an online dating success story survey...doesn't matter which dating website you met on. If you'd like to share your story for a potential posting on our website, choose "I have a success story" below...